My husband and I just got back from a 10 day stay at the Royal Malewane (RM) in South Africa. We had done a 7 day safari in 2017, but wanted to come back for a longer period of time and bring my in-laws!
First off, Royal Malewane is the most luxurious place we've ever stayed! When you arrive you at the airport you are greeted by your Ranger/Guide then they take you on a 30 minute drive to the resort.
When you arrive at the resort there is a staff of people there to greet you and to walk you into the Lodge. The view of the Lodge is unbelievable! Liz Biden (the owner) has AMAZING taste in her décor of the resort. It is all open with beautiful views of the Bush. There is a very large watering hole that is the main view of the entire Lodge. Everything is open so there is a TON of animal activity at the Lodge. You will not be disappointed. When we had arrived our view was a baby Elephant & mom drinking water out of the watering hole! Check in is easy, they just sit you down hand you a cocktail and just start telling you the safety rules meeting. Once that's done they take you to your room.
Each room is unique.. last time we had a room where the Elephants liked to drink water and the Nyala love to come by for a visit. This time we had a room that had monkeys visiting and lots of Bird activity (which was perfect because my husband loves birding!) and we even got to see some Warthogs hanging out. I got to see a fawn and white lion walk by and an elephant drank water out of our pool too! Everyday was something different! My in-laws had a great view of the main watering hole and had lots of elephant activity everyday at their room. The rooms are very spacious and super clean. Half the room is the bathroom where you have a huge soaking tub, open shower, his and hers sinks and a toilet room. The bathroom also connects to the outside shower & deck. Half of the room is also all window and sliding doors. The porch to the house is enormous, comes with double day beds, sun chairs, and your own pool! (The water they use is friendly for all animals to drink out of).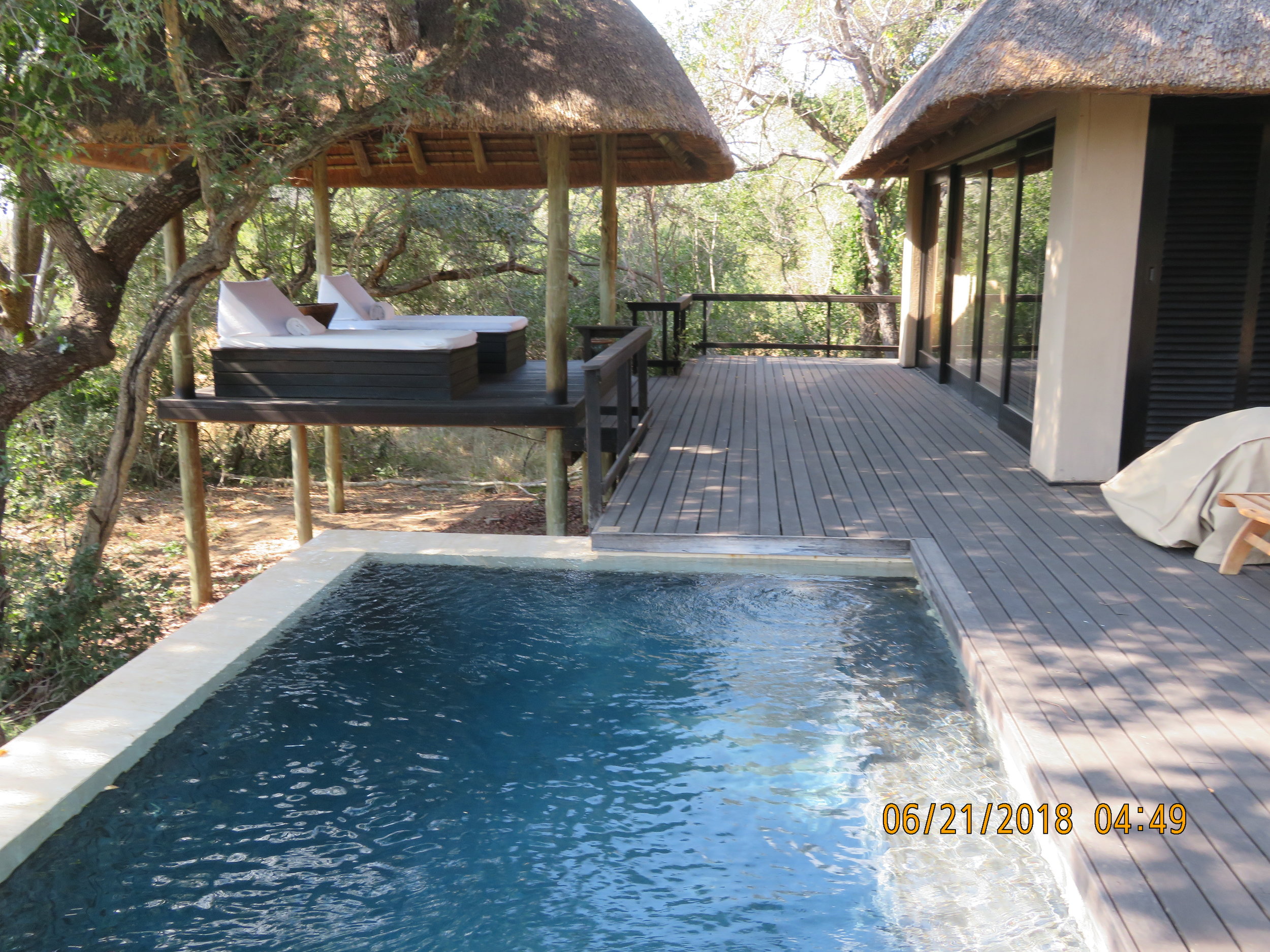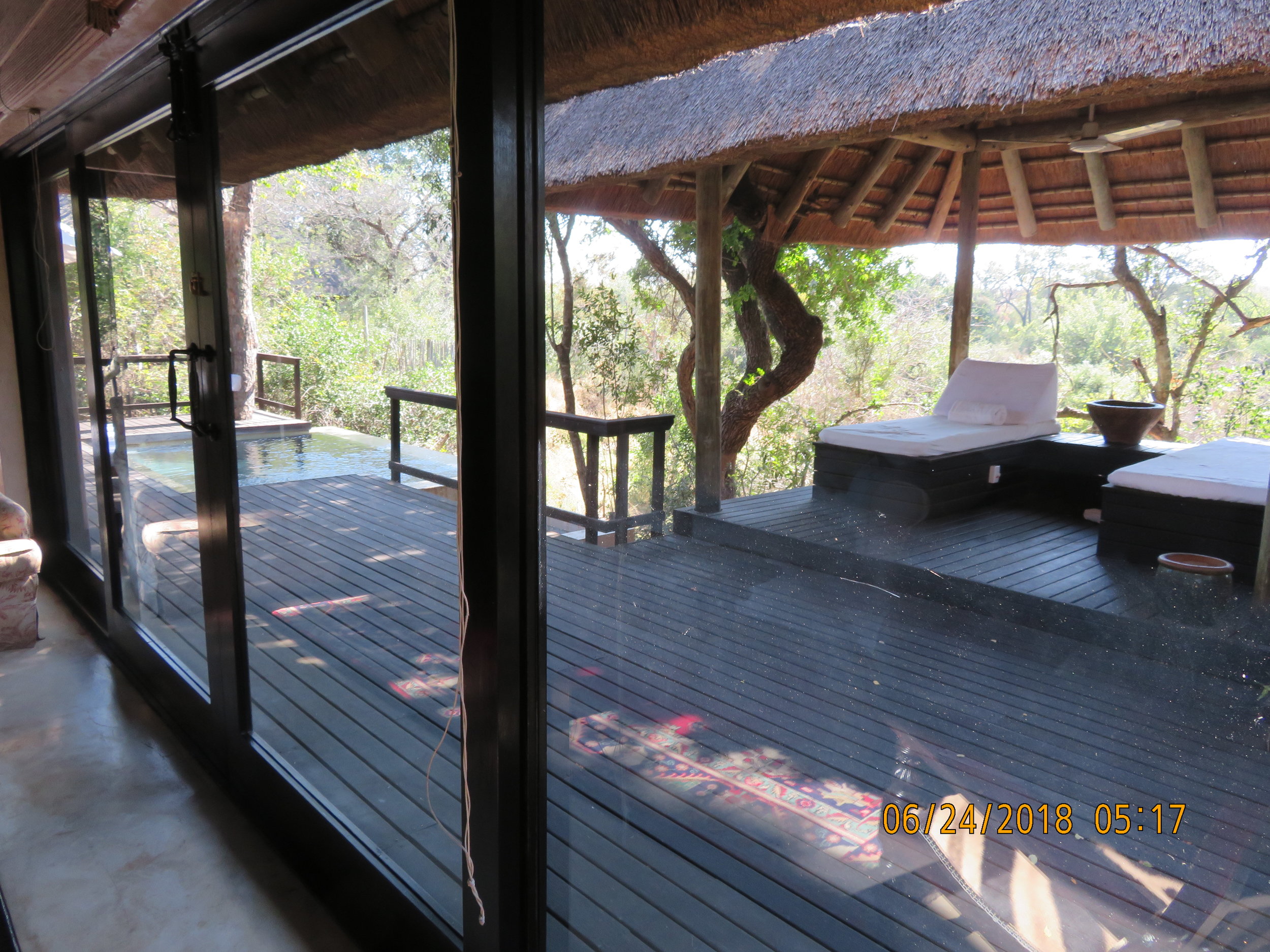 Everything is included at the Royale Malewane except Spa treatments. A typical day would be wake up call around 5-6am, meet at the main Lodge for tea and a light snack, first game drive around 6:30 until about 10am or so depending on what you got to see out in the Bush. Then we would head back to the Lodge and have breakfast where they have a huge buffet style of appetizers, baked goods, yogurts, cereals, meats & cheese, fruits, etc.. Then they would also hand you a hot breakfast menu that you can order your actual meal from. Some days if it was just us they would bring out individual plates of assorted things for our appetizer. Once we were done with breakfast there would be a break where we could go hang out at the lodge or our room until about 3:30pm (lunch also is anytime between breakfast and before the game drive). They always have light snacks and drinks before the game drives. We would be out from 3:30pm until about 7pm or so. Come back and be greeted with hot drinks a warm fire, then followed by dinner. Every night dinner would be in a different location on each part of the lodge. Then once dinner was done we were escorted to our rooms and welcomed to a fire and the best turn down service. It's a very strict schedule but you don't want to miss any of the drives. Everyday is different and you never know what you might be able to see out there.
This place is SUPER private. There are only 8 rooms on the property which makes for a very intimate experience. We never had more than two other tables in the same area where we were eating breakfast, lunch and dinner.
The Food is EXCELLENT! they have the BEST chefs preparing meals all day! Brandon was our favorite. Everyone was good, but Brandon went above and beyond. We had the pleasure of having him last year as our Chef as well! I was sick for a couple of days and couldn't handle anything but chicken soup and he always had it ready and fresh for me! We never really ate lunch because they were always feeding us too much food. Lunch was also a huge affair too! 5 course meal with dessert and appetizers! Dinner was the same as well.. always 5-7 course meals. I have a severe Tree Nut allergy and everyone always went above and beyond to make sure that everything was prepared correctly so my food wasn't contaminated with anything relating to Tree Nuts. Each menu (for all meals) was customized to each person, and honestly if you didn't want what they had made for your menu they would make you whatever you wanted.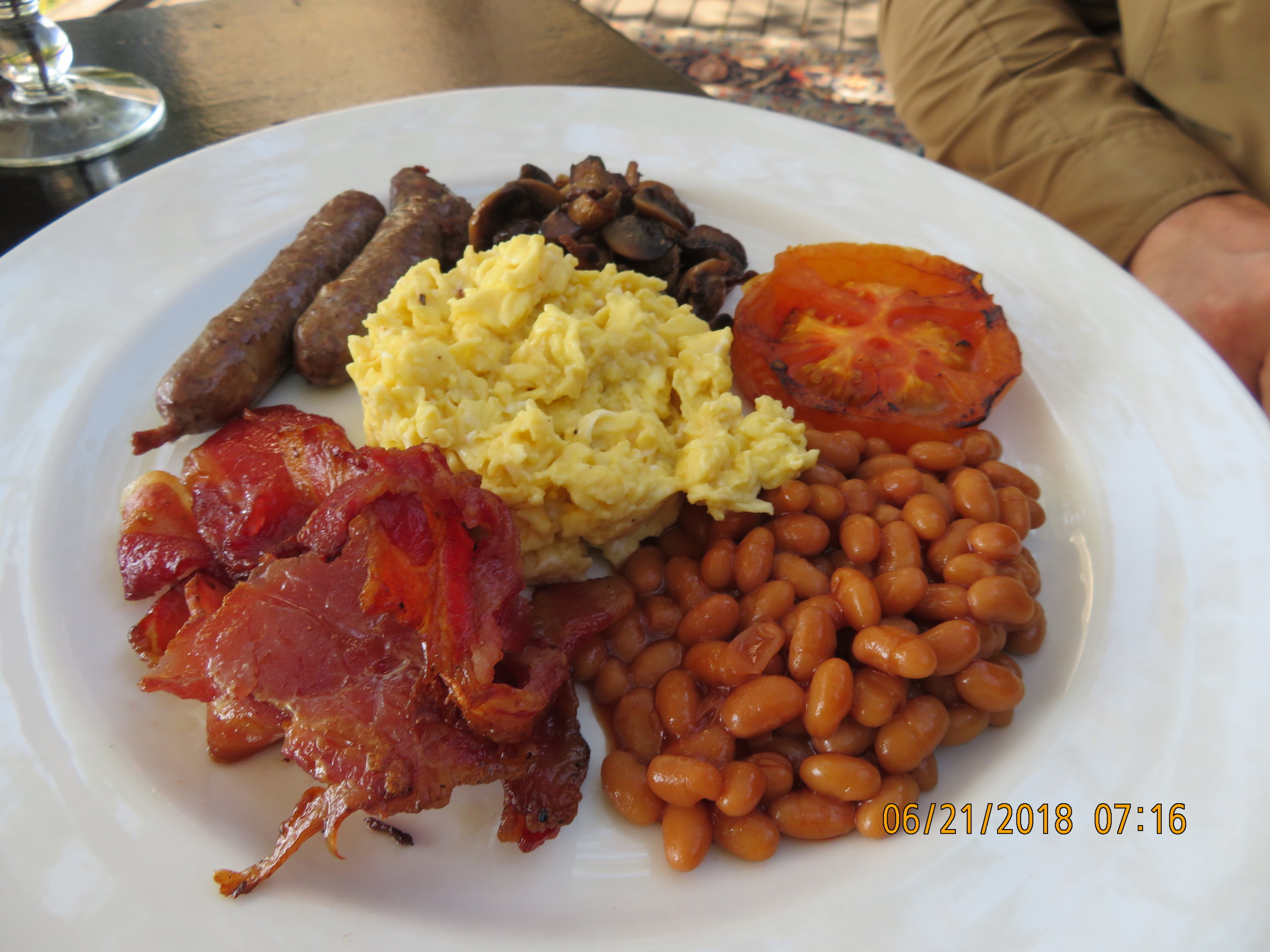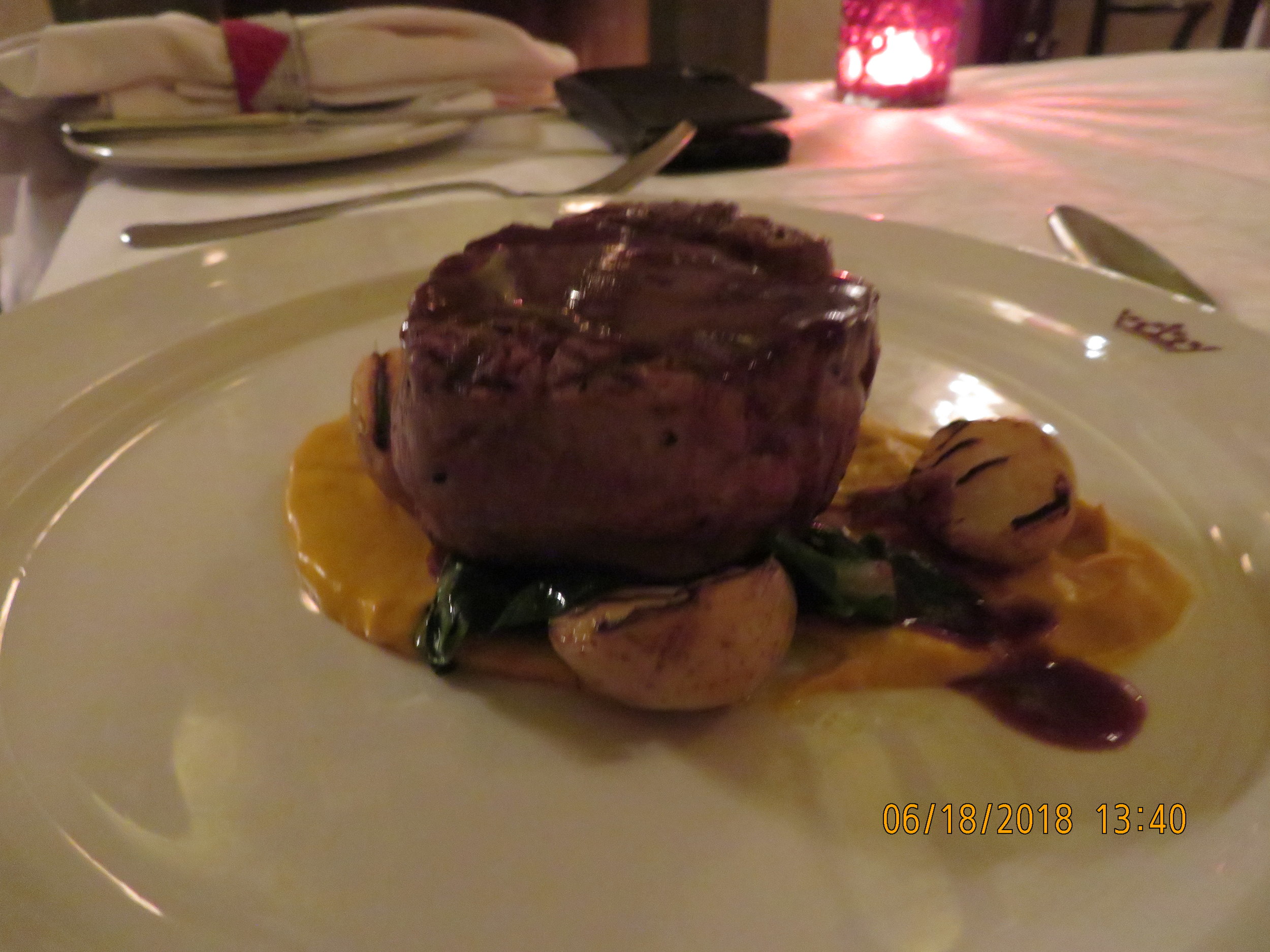 My husband had this whiskey that he loved from last year and Andrew made sure that there was a full bottle the whole time in our room for him. I also was partial to this Rosé and he had it chilled for me in my fridge every night. The mini bar is always stocked and there's also an armoire that's filled with liquor, cookies, treats, water and fruit. Room service is quick and they really take care of you.
As far as staff this place has the BEST team of people working for them from the waitstaff, to managers, to General Manager, to Rangers, Trackers, Spa Staff, even the Night Guard staff! Each one is special and amazing. We had a lot of favorites from last year that we were so excited to see again, and also made some new friends. They really go above and beyond at RM. When I was sick for those 2 days...EVERYONE had checked in on me and made sure I was okay. They even called in a doctor from the next town to check my vitals and to give me some medicine just to be safe.
For the Safaris there would be two a day. You pretty much can make your own schedule if you wanted to skip a day or a night. It all depends on what you want to do. They usually last about 3-4 hours depending on what you get to see. We upgraded to a private safari tour because we wanted a more intimate experience with Juan, head safari game ranger. When you opt for the included group safari drive, you're going with other guests who each have their own agenda, and time is limited in Winter so you may not get to see what you want to see. We loved the private experience and the more time we spent with Juan and Patrick (our tracker) they got to know us and what we liked and always ended up surprising us with incredible views and experiences! Each safari ride is pre-planned. They bring snacks and drinks on each game drive and will ask if you want a "break" and will set up this wonderful snack area on the front of the safari truck. Ask for as many "sun downs" as you can because the views of South African Sunsets are unbelievable! If you're lucky enough to catch a red one enjoy it! As far as snacks, daytime were mainly two types of cookies, tea, coffee, hot chocolate. At night they would pack dried fruit, jerky, chips, wine, beer, sodas and liquor.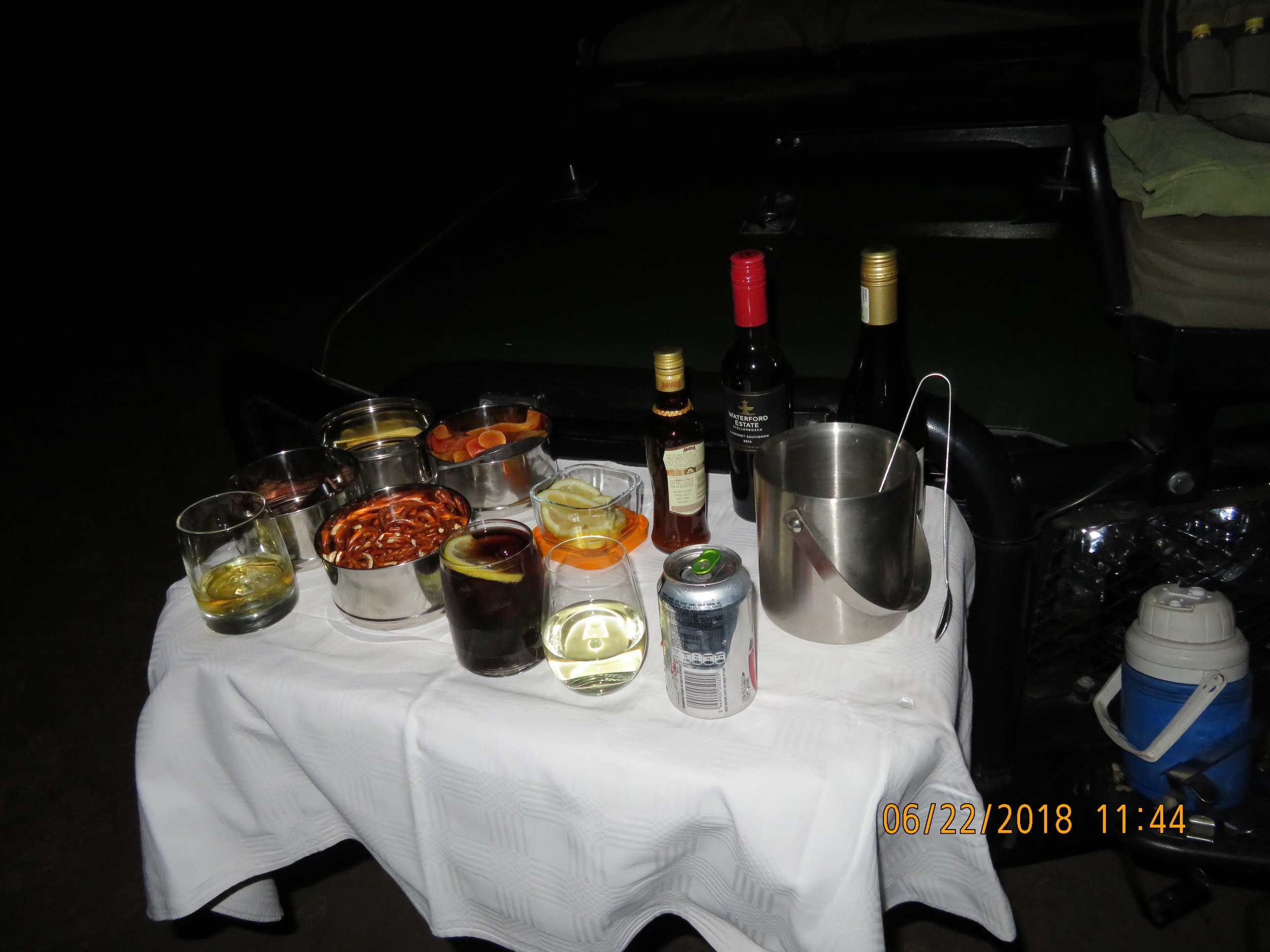 I used the spa a few times last year and once this year. Mary was my massage therapist and this little lady gives the BEST deep tissue massages! She got out every singe knot I had in my body and it was wonderful! Even if you don't have a spa appointment I would just wander in there anyway. It is a BEAUTIFUL spa!
For the departure day, you can choose to do a morning drive if you'd like. They will drop you off around 9:30am so you have time for breakfast and to go back to your room and pack. The staff takes care of all luggage and you just check out at the reception. It's quite simple and fast. And of course like the way you came, the way you go is with a large group of staff saying farewell.
I am so happy we were able to come back to Royal Malewane. Last year's trip was amazing because it was our first time and it opened my eyes to a whole new world, this time was different because we got to do and see so much more. I would definitely go back here every year if I could. The entire adventure was incredible. I honestly have no words for how it made me feel. All I know is we walked away with incredible stories and amazing friendships. These people will always have a special place in my heart and we can't wait to go back!